Your web-browser is very outdated, and as such, this website may not display properly. Please consider upgrading to a modern, faster and more secure browser. Click here to do so.
Welcome to the studio friend!
I'm Jess, aka Traveller, and this is my Tumblr Blog.
I build, paint and play a variety of table top wargames.
So please follow, like a post, or ask me a question. I don't bite.
Also, click one of the links below to check out some other wonderful blogs.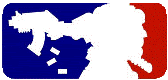 Oct 13 '12